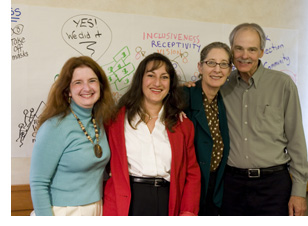 Q: What exactly do you do?
A: I see myself as an organizational architect; my primary roles are to clarify what my clients want to see in their organizations including appropriate success measures, then partner with their staffs to do the analysis, design and implementation required to breathe life into their visions.
As a significant side benefit, I mentor their employees in my analytic and consulting skills, thus building the organization's capacity for future success. Employees I work with learn a variety of skills ranging from tracking meeting conversations on multiple levels to enable skillful facilitation to managing the subtle political aspects of project management. All mentoring is based on the employee's unique stage of professional development.

Q: What brought you to this line of work?
A: I joke that I was always the kid who asked "Why?" and now I get paid to do it for a living. Jokes aside, I believe one of the things that distinguishes outstanding consultants is their ability to think differently, and I do think differently. I'm able to look at the same systems or information as others do, and see different patterns and possibilities. This is a key skill I look for in people I mentor and one I am blessed with.

Q: You just mentioned you mentor people. Why did you choose to do mentoring as part of your practice?
A: My years as an internal corporate employee left me with a sensitivity to the bittersweet relationship many organizations have with using consultants. They need the specialized skills but they are frustrated by their dependence on outsiders. When I became an independent consultant I realized that I have a passion for building lasting internal organizational capacity. In addition, I am at a place in my consulting craft where I find great fulfillment in passing on skills I have learned over the years.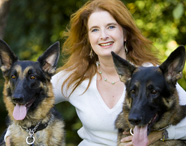 Q: There are a lot of consultants out there. What makes you special?
A: I know consultants who are very strong in analytical skills and others who are very good at working with people at all levels of the organization. There are very few who are good at both.
On the people side, I have a respectful appreciation of the work each employee does. This respect enables me to develop strong collaborative working relationships with line employees as well as with my clients.
As for my analytic skills, I have been fortunate to receive both a top tier business education (Northwestern University – Kellogg School – rated the #1 business school by Business Week when I was there) and experience in a variety of outstanding firms known for their discipline (i.e. Intel, Oracle). My career has offered many exciting opportunities for me to apply and refine my skills, and my nature is to continually learn and grow.

Q: If you were to pick one incident in your life that tells us about what has shaped you, what would you share with us?
A: In 1982 I started business school at Cornell University. I had never studied harder and I have never done worse. Finally, I faced the fact I was math phobic and in over my head and I withdrew from school. It was a huge disappointment – I had never taken anything on which I couldn't do before.
Over the next few years I took my life in other directions – including starting a family and training in karate. Through karate I learned a tenacity I had previously lacked – the first 300 times you do a turning kick you accept it isn't perfect – but you keep applying yourself to mastering it. After 8 years, I decided to take the discipline I had learned in karate and apply it to my math blocks.
I returned to school for a year to master quantitative skills, studying Pre-calculus, Calculus 1 & 2, Statistics, Micro and Macro Economics. When we had bad textbooks, I went to used book stores and pored through 25 or more books until I found one that matched how I think. I then used the book to both teach myself and to tutor classmates. I earned a 4.0 (A) in every class and went on to attend my first choice business school (Northwestern University). This early adult experience gave me great understanding of what it takes to surpass one's limits – lessons that I use regularly to help my clients do the same.

Q: What draws you to this work?
A: I am passionate about making a difference. The difference can be for my clients, for their staffs and/or for their end customers. As a consultant, I get to work with my clients on building or redesigning their operations to help them realize their visions. In addition, I help their staffs become aware of their strengths and develop new ones as we work together.
I love the nature of the work – it is analytical, creative and involves working with a variety of outstanding, talented people.

Q: What do people like about working with you?
A: My clients appreciate the high quality, innovative results and my ability to work collaboratively as well as independently. Their staffs like the fact that I lack stereotypical consultant arrogance, that I appreciate them for what they do, and that I am openly committed to developing them as we work together.
If you are interested in learning more about what I offer, please visit my Home or Services pages. To learn more about who I work with, you may want to read Who I Serve.