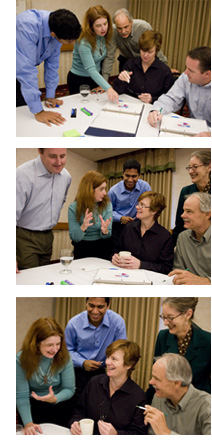 Working with Nancy Dill Consulting combines the best of adding a star performer to your staff and bringing in the breadth of a business systems architect who understands your environment and situation. With my guidance, your organization will implement the improvements needed, or develop the new programs you desire.
Results Oriented
When you work with me you can expect to see your targeted goals achieved on time, without surprises. Initiatives that are daunting and initially too vague quickly become well managed, realized achievements. Issues are communicated and resolved with clear professionalism.
Adaptive and Respected
I bring to my clients more than a decade of experience as a Business Consultant at companies with cultures as diverse as Intel and Kaiser Permanente. This experience gives me an uncommon ability to build strong relationships at all levels of the organization. I adjust my style to the formality of the group I'm working with, enabling me to build credibility at high levels of management, while also building camaraderie and trust with front line employees. Because I'm deeply committed to building employees' capacity and bringing forth — and acknowledging — the best thinking in the organization, line employees enjoy working closely with me.
Analytical and Creative
New solutions to problems come from new ways of seeing the environment, the business need and the possible solutions.
My approach includes questioning underlying assumptions and clarifying organizational goals. I then use systematic tools to analyze operations and to identify appropriate improvements. I produce or collaborate with your staff on the necessary documentation, often this documentation facilitates future troubleshooting and training of new hires.
Comfortable Working "In the Grey"
New programs and organizational changes are typically not black and white. The vision and its accompanying goals, objectives or requirements are often vague. You will find that I'm quick to clarify the issues and ensure that the initiatives match your desires, enabling you to progress quickly.
Professional Not Stuffy
I bring a balance of outstanding analytical skills and a warm, personable approach that makes it easy for employees at all levels of the organization to work with me. For me, professionalism is about results and the journey of collaboration, so I focus on building pleasant, productive relationships. I have credentials your management chain will approve of – but what you'll remember about me is a personal style that your whole staff will appreciate.
The Ripple Effect - Passionate About Developing Employees
Nancy Dill Consulting uses a ripple effect for its logo because the work I do has a ripple effect in organizations. In addition to the specific initiatives I am assigned to, I consciously mentor line employees in my skills, ranging from facilitation and documentation skills to subtler cognitive skills (e.g. how to anticipate and address things that could endanger your initiative, managing professional transitions smoothly, etc.). I have a strong commitment to transferring my skills into organizations, thus developing lasting internal organizational capacity.
Committed to Doing What is Right
Sometimes my hardest work is on the days when I have to tell my clients 'no'. ' "No, this project you're recommending I tackle isn't going to deliver the results you want, this team leader doesn't have the skills to take this forward..." '
Working with me means getting my best advice throughout our work together, even when I know I am raising difficult issues. My commitment is to give you my best thinking – even when it requires extra courage to do so.
Are you interested in learning more specifics about how I work with my clients? If so, please read Approach Specifics.