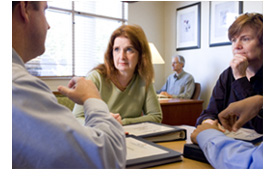 Operational Analysis and Redesign
The heart of building the most appropriate operational system is understanding:
The context the group works in, i.e. the needs of its clients and business partners, the skill level of its staff, and the evolving demands on the group.
The nature of the work and where staff time actually goes.
Underlying assumptions and their relevance today.
Sources of breakdowns and their root causes.
Current operations are typically the result of many employees' thinking over a number of years. Einstein said, "The world we have made, as a result of the level of thinking we have done thus far, creates problems we cannot solve at the same level of thinking at which we created them."
My operational analysis approach is to cock my head sideways and work with your staff to view your operations from different perspectives than they would if left to their own devices.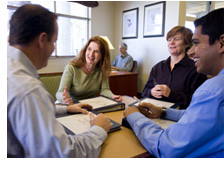 Depending on your needs, I may utilize traditional tools such as process maps, relational maps or continuous improvement analysis methods. Or we may identify an approach uniquely suited to your requirements.
I have a track record for delivering outstanding results working with employees in this area.
Results of some previous engagements include:
Performed organizational assessment for a Market Research department, designed a survey and interviewed management, clients and employees. Research flagged desire by Marketing group for Market Research to develop a proactive consulting approach. Worked with Market Research employees to develop appropriate skills, processes and tools to achieve desired results. Group has successfully moved to a new level of outstanding service to Marketing because of our collaboration.

Worked with interdepartmental continuous improvement team to analyze product sampling procedures. Implementation of team recommendations will save manufacturer $500,000 per year while reducing compliance risks.

Analyzed and designed new process for human resources department. Streamlined 588 process variations to 13. Model achieves 60-70% faster processing while increasing customer satisfaction and employee morale. New employee learning curve reduced from 6 months to 1 week.

Conducted comprehensive analysis and documentation of relationships between manufacturing operations and internal business partners. Analysis identified breakdowns and compliance vulnerabilities, enabling the client to prioritize and initiate corrective actions. Implementation of recommendations is scheduled for 2006.

Worked with large healthcare organization on restructuring of Information Technology group. Designed and facilitated sessions for 60+ managers to co-create the effective redesign of 700 person department.

Led international team crafting new expatriate guidelines and developing supportive processes. New model saves more than 17 hours in labor costs per expat over old process. Proposed and conducted cost/benefit analysis on approaches to moving employees overseas. Implementation of recommendations saved firm up to $15K per transaction.
To learn more about how I achieve my results, read My Approach. To learn more about me, read About Me.